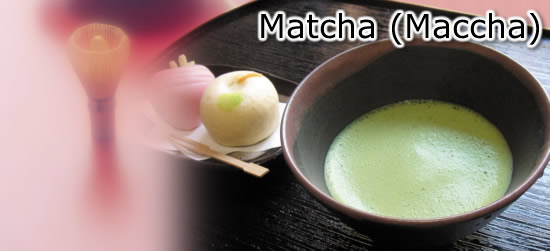 Shaded from mid-April until harvest, the tea plants at the 'Ooishita en' (covered) fields receive reduced sunlight. Freshly sprouted
buds are picked, steamed, then dried without being kneaded.
Most people rarely have a chance to see Maccha (Tencha) in its original state since it is always ground when sold.
However, as the flavor and color quickly deteriorate after being ground, manufacturers preserve this type of tea in the non-ground tencha form.
Maccha is powdered tea and unlike the Gyokuro and Sencha teas the drinker actually consumes 100 % of the beneficial nutrients by drinking the ground tea leaves. Maccha is rich in amino acids, vitamins, minerals and catechin antioxidants. It is a highly desirable health drink and many people drink this kind of green tea daily.




Below the product list you find a link for the precise description!